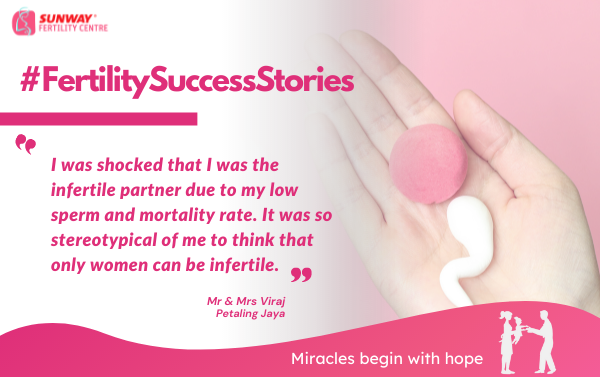 [#fertilitysuccessstories]
"I've been working as a chemical engineer since I was 26, and married my lovely wife at the age of 30. We've been trying to get pregnant for 3 years and every time it has been unsuccessful.
My wife had gone for various tests in many women's clinics to get a second, third, fourth opinion, but the results were always normal. And so we always thought that it wasn't our time yet and continued trying. There were times when my wife told me that maybe I was infertile and that I should get some tests done. But my ego and self-denial chose not to believe it and it started to affect our relationship. Only in the fourth year when I was more settled in my career did I decide to visit a fertility specialist in Sunway Fertility Centre.
We took the couple screening tests and once again, my wife's results were perfectly fine. My results were an eye-opener; my semen analysis showed that my sperm count was quite low with a poor mortality rate. The specialist told me that it was in part due to the chemical exposure in my workplace. I was shocked that I was the infertile partner and my ego had put my wife through so much all these years. The doctor recommended that we go for IVF and start immediately so as not to waste more time. Through an additional procedure called IMSI (Intracytoplasmic Morphologically Selected Sperm Injection), the embryologists could select the best sperm to fertilise the egg. Two weeks after our embryo transfer, my wife did a blood test and we received the best news ever… My wife's beta HcG test was positive, which meant we're finally PREGNANT!
Looking back, I now realise that it was so stereotypical of me to think that only women can be infertile. If only I had listened and sought professional medical help earlier, we wouldn't have dragged this emotional exhaustion for so many years. Luckily for me, these hardships made us stronger together, and we did not give up. Thank you Sunway Fertility Centre!."
Congratulations Mr. and Mrs Viraj. Thank you for choosing and trusting us to help you in your parenthood journey. ❤️
#ivf #fertility #sunwayfertility #semenanalysis #infertility
Quality Fertility Treatment With IVF Package Malaysia
Don't hesitate to enquire for more info with us today. Our staff are happy to assist you.