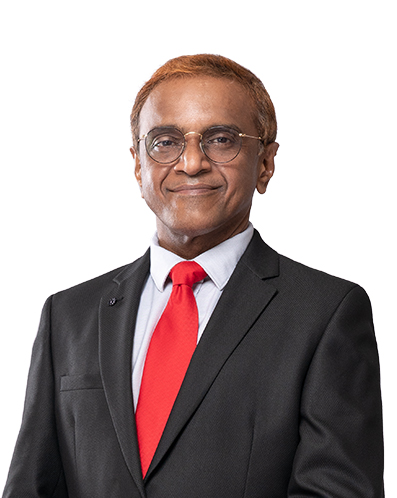 Dr Kannappan Palaniappan's areas of interest in his field include infertility and IVF services; male related infertility and surgical retrieval of sperm; keyhole surgery; microsurgical tubal reanastomosis as well as Da Vinci robotic surgery.
Dr Kannappan graduated as a Doctor of Medicine from Malaysia's prestigious Universiti Kebangsaan Malaysia (UKM). He later proceeded to obtain a Masters in Obstetrics and Gynaecology and was later certified by the Ministry of Health Malaysia as a subspecialist in Reproductive Medicine.
Prior to being a full-time obstetrician, gynaecologist and fertility specialist at Sunway Medical Centre, Dr Kannappan spent the earlier years of his career as Head of the Reproductive Unit at Hospital Kuala Lumpur from 2012 to 2014. He was also the Head of the Obstetrician and Gynaecological Department at Hospital Muar from 2001 to 2003.
Dr Kannappan dedicates his expertise to the Malaysian community. He is an advisor and fertility consultant at the National Population & Fertility Development Board (LPPKN), a body under the Malaysia's Women, Family & Community Development department and a committee member of the reproductive medicine sub-specialty training programme under the Ministry of Health, Malaysia. Apart from that, he has been a member of the American Society of Reproductive Medicine (ASRM) since 2010.
He is also actively involved in research in his field and have presented them at medical conferences around the world.
Specialty: Obstetrics, Gynaecology
Subspecialty: Fertility
Qualifications: BMedSc (UKM), MD (UKM), MOG (UKM), Fellowship in Reproductive Medicine (S'pore), AM
Languages: English, Malay, Tamil
Location: B-2-17, 2nd Floor, Tower B, Sunway Medical Centre
Contact: +603-7491 9191 (Ext. 16552 / 72072)
| DAY | TIME |
| --- | --- |
| Monday | 9:00am – 1:00pm | 2:00pm – 5:00pm |
| Tuesday | 9:00am – 1:00pm | 2:00pm – 5:00pm |
| Wednesday | 9:00am – 1:00pm | 2:00pm – 5:00pm |
| Thursday | 9:00am – 1:00pm | 2:00pm – 5:00pm |
| Friday | 9:00am – 1:00pm | 2:00pm – 5:00pm |
| Saturday | 9:00am – 1:00pm |
Doctors
WITH SIMILAR SPECIALITY