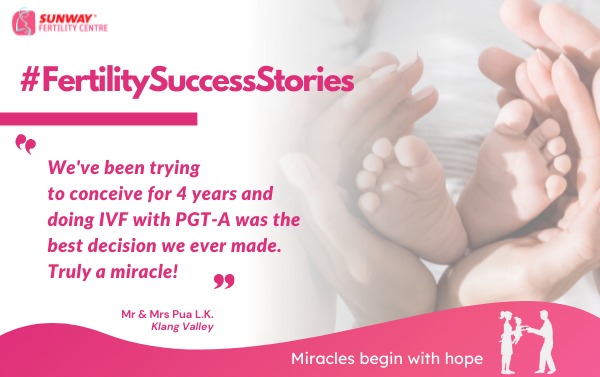 "I got married at the age of 35 and my husband was 38. We never gave much thought about getting pregnant or starting a family. We assumed that it would happen naturally and easily for us, however, four years on we were still unsuccessful. We finally decided to give up trying on our own and seek professional help. My cousin, Anna, recommended her fertility specialist in Sunway Fertility Centre to us. We consulted the specialist, underwent some tests and scans, and waited for the results. We were so tensed, it was as if we were waiting for our exam results! Now when we look back, it was funny. According to our specialist, our advanced age was the main reason that we were unable to conceive and our best shot was to go for IVF treatment. She also recommended that Pre-Implantation Genetic Testing (PGT) is performed on our resulting embryos to ensure that only healthy embryos were transferred and thus our chances of success were higher.
What happened next was like a whirlwind… My husband and I decided to immediately start IVF treatment. We were counseled on the whole IVF process and procedures, the medication, treatment protocols, and were assigned to a fertility counsellor to guide us throughout treatment. To cut a long story short, I started treatment and before I knew it, it was the day of my egg pickup and soon the embryo transfer procedures. And then was the long TWO WEEK WAIT for our pregnancy test. We were hopeful, but after failing so many times, we daren't keep our hopes high.
When our fertility specialist gave us the good news we could hardly believe it. We're currently 28 weeks pregnant and can feel the kicks of our first child. Sunway Fertility Centre gave us the best gift that we've ever received; the gift of parenthood. We can't thank you enough for giving us our miracle, and can't wait to meet her. Yes, it's a baby girl!"
Congratulations, Mr & Mrs Pua. We can't wait to meet her too when she makes her grand entrance! Thank you, for trusting and choosing us to be part of your fertility journey.
Stay tuned for more #fertilitysuccessstories with our #MiraclesBeginWithHope series.
Quality Fertility Treatment With IVF Package  Malaysia
Don't hesitate to enquire for more info with us today. Our staff are happy to assist you.
In general, the IVF process involves the retrieval of matured eggs from woman's ovaries. From there, healthy single sperm will be selected by our highly qualified and experienced embryologists. Then, the selected sperm will be injected into the egg for fertilisation through a microscopic lens, forming embryo. This process is called ICSI. But, here at Sunway Fertility Centre, we use Intracytoplasmic Morphologically Selected Sperm Injection (IMSI) technique.
The IVF process involves 4 phases. It is typically started at the first day of a woman's period. Here's the phase:
Phase 1: Ovarian Stimulation – the body will be stimulated to produce more eggs in this step. The medication involves injection. Nurses will guide the patient on the process on how to do it.
Phase 2: Egg Pickup – Our professional specialists will retrieve the eggs from the ovaries. A special needle as well as ultrasound will be used. This is where experience comes to play. Rest assured that anaesthetic will be given.
Phase 3: Fertilization – The patient's eggs and the husband's sperm will be fertilized in the laboratory.
Phase 4: Embryo Transfer – The embryo will be transferred to the womb. Alternately, patients can choose to freeze their embryo for future transfer when they're ready to start a family.
For the surplus of embryos, they can be preserved with our cryopreservation process for future use. Cryopreservation is an option that freezes the cells to preserve and protect them. It is also a viable option for both men and women who are considering to plan for a family in the future.
WhatsApp us today to make an appointment or enquire for more info. We are delighted to assist you!