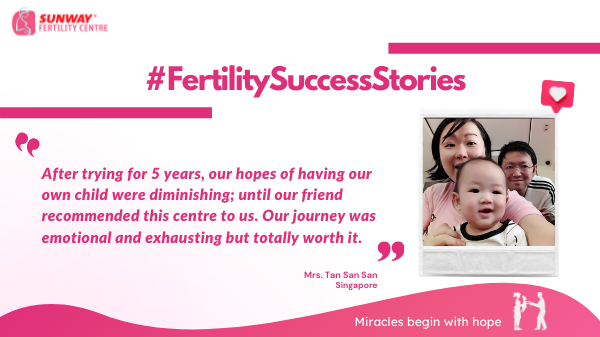 [#fertilitysuccessstories] "We had been married trying to conceive unsuccessfully for 5 years. Our only pregnancy ended in a miscarriage and it was devastating. After trying for 5 years, our hopes of having our own children were diminishing. It was then that my friend recommended this centre. We flew to Malaysia to consult with the fertility specialist in the centre. After consultation, assessment and tests, our doctor recommended that we go for IVF & PGT (Pre-Implantation Genetic Testing) so that the resulting embryos could be screened.
We started our IVF treatment; it was successful and we had 5 frozen embryos. We conceived after our first and second embryo transfers. Unfortunately, both transfers ended in miscarriages at 7 weeks and 9 weeks respectively.
Due to my advanced age and history of miscarriages we decided to try for a second IVF cycle, this time with PGT. From our second try, we had 7 frozen embryos which were screened for abnormalities via PGT technology before the transfer. From the 7 embryos, 3 of them had a normal number of chromosomes. We were so relieved with the news and proceeded with our third embryo transfer. After so many tries, we finally conceived! This time, we had a healthy baby boy who made his grand entrance in April. Our roller coaster journey was emotional and exhausting, but total worth it.
My advice to those who want to do IVF, "Give yourself a good rest and find a reliable doctor who is skilled in advanced reproductive technology. To the husbands, do give your wives full support throughout your fertility journey."
Congratulations, Mrs. Tan! Thank you for choosing to trust us in your fertility journey.
Stay tuned for more #fertilitysuccessstories with our #MiraclesBeginWithHope series.
#IVF #ivfjourney #fertilitymalaysia #fertility #fertilityjourney #SunwayFertilityCentre #pgta
Quality Fertility Treatment With IVF Package  Malaysia
Don't hesitate to enquire for more info with us today. Our staff are happy to assist you.
In general, the IVF process involves the retrieval of matured eggs from woman's ovaries. From there, healthy single sperm will be selected by our highly qualified and experienced embryologists. Then, the selected sperm will be injected into the egg for fertilisation through a microscopic lens, forming embryo. This process is called ICSI. But, here at Sunway Fertility Centre, we use Intracytoplasmic Morphologically Selected Sperm Injection (IMSI) technique.
The IVF process involves 4 phases. It is typically started at the first day of a woman's period. Here's the phase:
Phase 1: Ovarian Stimulation – the body will be stimulated to produce more eggs in this step. The medication involves injection. Nurses will guide the patient on the process on how to do it.
Phase 2: Egg Pickup – Our professional specialists will retrieve the eggs from the ovaries. A special needle as well as ultrasound will be used. This is where experience comes to play. Rest assured that anaesthetic will be given.
Phase 3: Fertilization – The patient's eggs and the husband's sperm will be fertilized in the laboratory.
Phase 4: Embryo Transfer – The embryo will be transferred to the womb. Alternately, patients can choose to freeze their embryo for future transfer when they're ready to start a family.
For the surplus of embryos, they can be preserved with our cryopreservation process for future use. Cryopreservation is an option that freezes the cells to preserve and protect them. It is also a viable option for both men and women who are considering to plan for a family in the future.
WhatsApp us today to make an appointment or enquire for more info. We are delighted to assist you!