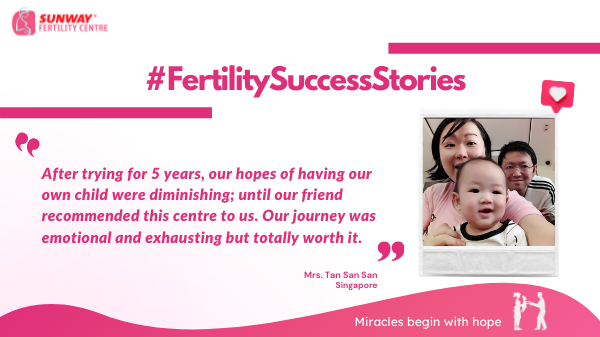 [#fertilitysuccessstories]
Mrs Lee: We have been married for 7 years. We've been trying for the past few years but failed to conceive. A few years back, we consulted a TCM doctor and tried TCM. It was about 3 years ago when we attended one of Dr Farah Leong's health talks there. After that, we followed her advice, got consultations, and proceeded with our IVF journey.
Mrs Lee: It was a blessing to give birth to our baby this year. The reason was despite trying many times, we were still having trouble getting pregnant so I decided to for a medical checkup and seek a health professional's advice to check if there was any problem with the body. If there are any issues with my body, then I'll quickly get them sorted out. As a matter of fact, I have undergone two embryo transfers. During the first attempt, one embryo was transferred but it was unsuccessful. Two embryos were then transferred into my uterus for the second attempt. Thankfully, one of the embryos was successful and there was a heartbeat. Due to my fear of needles, I had to get my husband to assist me with the injection during this process.
Mr Lee: In my opinion, the husband's role is crucial during this process, since your wife may be afraid of needles. Although some men may also be afraid of needles, however when we see our wife is in pain, we should still support each other and help them through this. I think this is important. If both you and your partner have made a decision on having a baby, don't ever give up. Also, be patient and don't worry, your baby will arrive. Don't waste your time, go ahead and receive IVF treatment right away if you need it. It's better to get the treatment as soon as possible if you've still capable of doing so.
Congratulations, Mr & Mrs Lee! Thank you for choosing to trust us in your fertility journey.
Stay tuned for more #fertilitysuccessstories with our #MiraclesBeginWithHope series.
#IVF #ivfjourney #fertilitymalaysia #fertility #fertilityjourney #SunwayFertilityCentre #pgta
Quality Fertility Treatment With IVF Package  Malaysia
Don't hesitate to enquire for more info with us today. Our staff are happy to assist you.
In general, the IVF process involves the retrieval of matured eggs from woman's ovaries. From there, healthy single sperm will be selected by our highly qualified and experienced embryologists. Then, the selected sperm will be injected into the egg for fertilisation through a microscopic lens, forming embryo. This process is called ICSI. But, here at Sunway Fertility Centre, we use Intracytoplasmic Morphologically Selected Sperm Injection (IMSI) technique.
The IVF process involves 4 phases. It is typically started at the first day of a woman's period. Here's the phase:
Phase 1: Ovarian Stimulation – the body will be stimulated to produce more eggs in this step. The medication involves injection. Nurses will guide the patient on the process on how to do it.
Phase 2: Egg Pickup – Our professional specialists will retrieve the eggs from the ovaries. A special needle as well as ultrasound will be used. This is where experience comes to play. Rest assured that anaesthetic will be given.
Phase 3: Fertilization – The patient's eggs and the husband's sperm will be fertilized in the laboratory.
Phase 4: Embryo Transfer – The embryo will be transferred to the womb. Alternately, patients can choose to freeze their embryo for future transfer when they're ready to start a family.
For the surplus of embryos, they can be preserved with our cryopreservation process for future use. Cryopreservation is an option that freezes the cells to preserve and protect them. It is also a viable option for both men and women who are considering to plan for a family in the future.
WhatsApp us today to make an appointment or enquire for more info. We are delighted to assist you!